Parish Administrator : Patricia (Patty) Hayes

Patty comes to us with extensive experience in marketing, coordinating calendars and logistics, people skills, data coordination, creating and updating materials, website and social media, and vast computer skills. Her executive skills readily translate to our setting with a warm personality and utmost appreciation of volunteer dedication to ministry.
She lives in Stewart Manor with her husband Joe and two children, Maggie, 14 and Catherine 11. For fun she enjoys planning her next trip, both near and far. She worships at St. Anne's Church in Garden City.
Ellen taught general music for 25 years in Freeport School System.  As accompanist at Freeport High School for their Select Choral, she toured the East Coast, Canada and England.  She was Choir Master, organist, bell choir and conductor of cantatas at St. George's Hempstead from 1999 to 2008.  Just when she thought she was retiring from full time music ministry, Ellen was persuaded to become our Sunday Organist.  After playing at the 8 am service at St. George's she comes here for our Sunday Eucharist.  In addition she plays for Holy Days, special services, and coordinates seasonal brass ensembles and choirs.  Ellen states that music has always been a God-given force in her life, and she will continue to share her music with others.  Glory to God in the highest!
Senior Warden and Editor of Rise and Shine : Jane Colgrove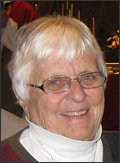 Jane thanks God for her "calling" to coordinate newsletters, which she has done for decades.  She loves to cut and paste, create, and especially to communicate with people in the parish and community.